The WHO-SEARO Gender Sensitive Project Grant helped Nalamdana connect three more wards to the cable radio on campus, where only HIV positive women patients were interned for fifteen days at a time, to receive the free ART treatment.
It also funded regular group meetings for the women patients and paid the salary of one special women counselor who helped them through the difficult period of adjustment.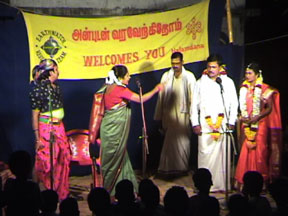 The Nalamdana team was already doing monthly drama's and roving street plays around this largest hospital in Asia, to reach the thousands of patients treated here each month. This grant also helped the Nalamdana actors create special scripts sensitive to women's needs.
Nalamdana had applied for a short term grant and was approved by World Health Organization /South-East Asia Regional Office (WHO/SEARO) to create a gender sensitive programming through participatory, innovative communication at Nalamdana's ongoing project site – the largest Government Hospital where free ART and TB treatment is given to men, women and children at Tambaram, on the outskirts of Chennai, Tamilnadu.
The Nalamdana "Are You Well" program's main objective was to:
– strengthen the women's component of the program by connecting the TB women's wards that are were unconnected to the cable radio
– create a special gender-curriculum of messaging over the cable radio to specially address the practical and psycho social issues faced by women and include FGDs and support group meetings for women on campus
– continue with direct interpersonal counselling, which will help to empower them and bring women on par with the men receiving these programs.