Celebrating 25 Years
of Communicating for Better Health

Nalamdana incorporated

Incorporation of Nalamdana as a non-profit on December 8, 1993. Founded by Ms.Uttara Bharath. First three trustees during registration- Uttara Bharath, Nithya Balaji and Tara Thiagarajan. Uttara met Mr. Jeevanandham and invited him to take part in Nalamdana.

First street performance

Jeevanandham, Oyyavandhan and Sampath officially join Nalamdana. The first awareness street theatre program is organised shortly thereafter at Malligaippu Nagar, Urban slum in Chennai.

HIV Prevention Communication Programme

The Ford Foundation- New Delhi supported Nalamdana to cover 111 urban slums in Chennai. A combination of street theatre, followed by community-based interactive workshops and linking the target audience to local service providers followed. Lessons learned were later applied to other projects". Research findings from HIV work data from this period were published in International AIDS Journal. In 2000, Ford Foundation gave Nalamdana, and a small group of effective NGOs in India, an endowment for "Nalamdana's outstanding work in the field of HIV. This allowed Nalamdana to buy their own office space in 2008.

Student Youth Education and Leadership Program Launched

Student Youth Education and Leadership Program started to help students from economically challenged backgrounds complete their high school. This program was launched at Nalamdana's 100th drama with a special event at Chennai.

FCRA permission received

FCRA permission received on from Home Ministry, Govt. India, New Delhi after 5 years of clean audits and scrutiny. Not many Indian NGOs have this and it is getting increasingly tough to get this permission. FCRA certification allows an NGO to receive funding from overseas.

Earthwatch partnership launched

The Earthwatch Collaboration Maternal and Child Health Communications Research Project addressing nutrition from 2000 to 2006, covered both select urban and rural populations in Tamil Nadu. This was funded by volunteers through Earth watch Institute, Boston. Pilot research sites and urban children sites at day care centres, drama's workshops, interactive games, adolescent girls' micro groups trained through video, school children reached through music. Materials and tools created from this project still in use.

This network of Earthwatch volunteers continued to engage with Nalamdana after their term. March 2006 saw the formal establishment of 'Friends of Nalamdana' in the US, bringing together a group of folks who have volunteered with or had contact with Nalamdana in some meaningful way. The non-profit was established with 501(c)(3) status to make donations in the US tax deductible. FoN has been a critical force in raising funds among US-based supporters to enable Nalamdana's work in India.

Nalamdana produces its 1st feature film, Pesu Maname Pesu

First Tamil feature film (for training and education) on HIV produced by Nalamdana – "Pesu Maname Pesu". Filmed the second part with the renowned Dr. Suniti Solomon answering questions on the issues raised from the first part, both were formally released in the two-part film in March 2002. Broadcast on the national channel, DD2 to a wide audience, the participatory contest received 400 letters (days before social media) and the best ones were read out the following week and prizes given. Since then Nalamdana has made four feature films that have been televised, are still being widely used by educational institutions and NGOs for teaching and training through sensitively produced entertainment education. Aadi Maatham (HIV), Nandavanathi (alcoholism), Maaya Changu (child abuse prevention – specially commended by the Censor Board) and Nambikkai (post-Tsunami rehabilitation). A number of songs (collaborations with famous singers like SPB) and short educational films have also been made on a range of health and social issues.

Tsunami Relief

A Tsunami at the end of 2004 resulted in major havoc along the coastal villages of Tamil Nadu. Nalamdana dipped into their own resources, raised funds locally and toured the affected areas for over 2 years and used theatre to address key issues in post Tsunami resettlements. This was documented in the film-"Nambikkai" (Hope). After the major flood of 2015 in Chennnai, again Nalamdana responded to affected population and children of Chennai. Theatre is a powerful medium to reach traumatised populations and address some of their immediate psychosocial as well as information needs.

Tambaram Hospital Programme Kicks Off

Hospital project and CR in Govt hospital site (2005 – 2018) A Unique project in Tambaram GHTM Hospital (Govt Hospital and largest ART treatment centre for HIV positive and TB affected patients from three states. Nalamdana started with monthly drama's in their open-air auditorium. CDC Atlanta and I-Tech funded regular role plays outside Outpatient clinics and wards. Soon this expanded into setting up a radio room and connecting wards through cable- relaying of epical programs created through doctor/nurses, patient care givers participation. Funded through 2005-2008 by Make ARTS/STOP AIDS (MASA), UCLA, The Richard Gere Foundation, W.H.O SEARO for gender sensitive programming, and finally the Elizabeth Taylor Foundation for the final year's radio programs. Outcomes measured through external evaluation. Presented at several international meets and seminars.

Thendral Radio 91.2 FM Goes On The Air

Nalamdana starts their own Community Radio station, Thendral 91.2 FM in the office on January 2014 with permission granted by Home Ministry, Govt of India. funded by Rotary club of Madras Coromandel and Nalamdana's own funds raised for the purpose. Began with programs that were collaborations with local community and content experts. Then were awarded special project from Dept. of Science and Technology- NCSTC – Govt. of India- Under this, produced 365 Episodes on Women's Health by involving local urban community women group. And Nalamdana team created and produced 60 songs and jingles on various health issues, festivals and on National leaders' biography. Thendral continues to broadcast daily and enjoys a strong listenership in the broadcast radius in South Chennai.
Milestones of Success and Growth
In just the last two years Nalamdana has performed 56 community dramas, 128 puppet shows and school programs, conducted 51 film screenings and discussions. They have also conducted 12 health camps for truck drivers, and produced 10 short films on key health issues for women.
These are only the most recent accomplishments of an organization that has been rapidly evolving to meet a changing health education landscape. Take a look at where we've been!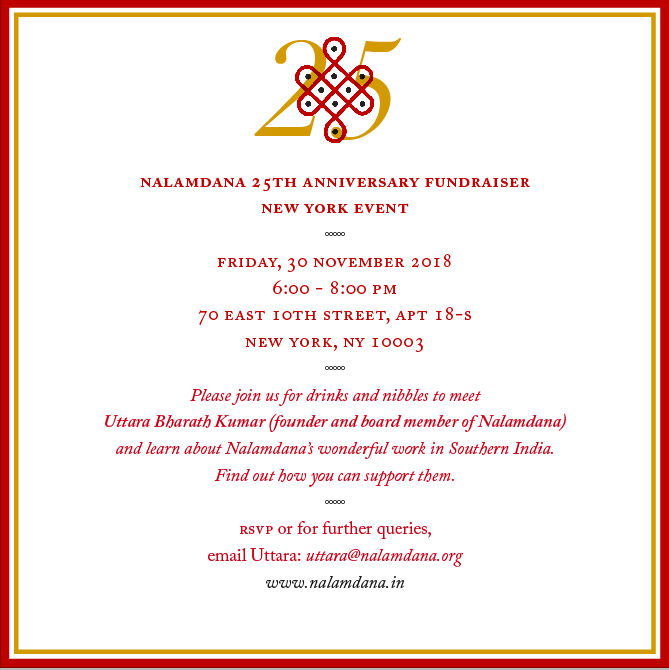 Celebrate with us on November 30 in New York City! Click here to learn more.